on Thu Aug 22, 2013 9:38 am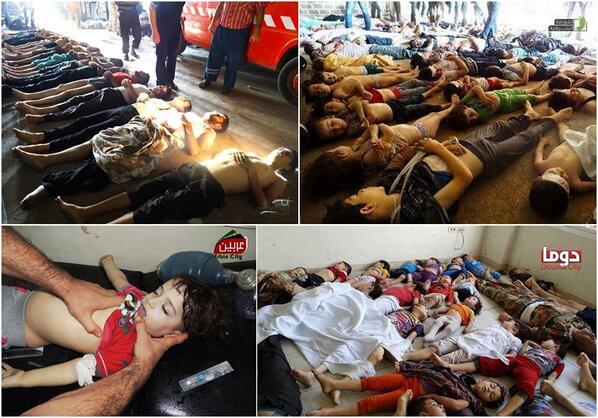 The world woke up on Wednesday, 21. Thousands of Syrians terrible on the floor due to chemical weapon Sarin gas attack Assa.d's forces have killed 1,300 people in the worst attack of chemical weapons in the world in recent decades.
The attacks were reported in the area controlled by Syrian fighters in eastern Damascus.
Activists say Assad army rocket attacks with chemicals hit the Damascus suburb of Ain ​​Tarma, Zamalka and Jobar dawn.
According to the Syrian activists in the Revolutionary Command Council, the regime warplanes flying over the area after the bombing.
"The attack occurred at around 03:00 on local time . Most of those killed are still sleeping in their homes, "Khaled Omar of the opposition of the Local Council in Ain Tarma said.
Activist groups have also accused forces loyal to President Bashar Assad using chemicals.
Opposition watchdog group, citing figures compiled from a medical clinic in a suburb of Damascus, said that 90 percent of them were killed by the gas, the rest with bombs and conventional weapons.
"Many of the victims were women and children. their bodies are cold and there is foam in their mouths, "said a nurse in the Emergency facilities Douma Collection, Bayan Baker, Reuters.
"The doctors say this is a typical symptom of nerve gas victim," the nurse said.
Sarin exposure causes shrinking eyelids and mouth foaming.
If the cause of death and murder-scale chemical weapons is confirmed, it would be the worst use of chemical weapons since Iraqi used poison gas attack against the thousands of Kurds in the town of Halabja in 1988. (admin)

Permissions in this forum:
You
cannot
reply to topics in this forum