on Thu Jun 02, 2011 7:13 am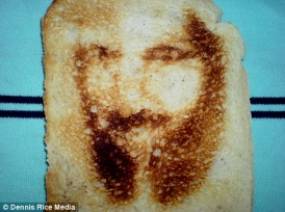 LONDON - Even a month after news of the death of Sheikh Osama Bin Laden declared and enliven the world of the Internet almost two weeks, now the 'face', he re-emerged a surprise of a British man, the article of the 'face' Sheikh Osama appears in the piece of toast that would eat the man.
Images of faces appear like Sheikh Osama facial appearance which had long circulated widely, ie, complete with long beard and sideburns and a sharp gaze. So that was reported by the Daily Mail.
The emergence of the 'face' is incurred when the British man who was not identified this mean buttering the bread that has been burned. "He always seemed like a sandwich bread," said one witness about man 'bakery owner '.
The emergence of famous people in strange locations is not new. Two years ago, the face of Jesus is reported to appear in an iron, bruises, and automobile glass, however, this is the first time the faces of people who labeled 'terrorists' by the United States for nearly a decade, emerged as a phenomenon.

Permissions in this forum:
You
cannot
reply to topics in this forum